Mastering the art of talking naturally to a camera is at the heart of every YouTuber's earning potential. This is because it holds the key to creating genuine connections with audiences and building a loyal subscriber base. And since brands, including the YouTube Partner Program, consider engagement metrics when deciding what to pay a content creator, learning how to naturally talk to a camera might be the last piece you needed to guarantee success as a YouTuber.
Here are tips that will come in handy in helping you to talk naturally when recording a YouTube video.
Maintain eye contact with your audience
When it comes to your audience, you have to talk to them the same way you would your friends if you want to create authentic connections with them. And one of the easiest ways to ensure that this happens is to maintain eye contact with them.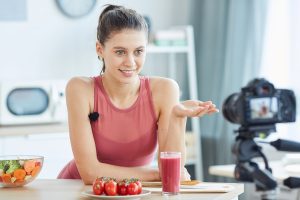 To achieve this, look at the camera lens when talking. While it may at first seem weird, and while it may also be tempting to look sideways when gathering your thoughts, this is something that you should resist. Why? Because it is through the lens that your audience sees you, and not keeping your eyes on the lens will simply make you look either nervous or inconsiderate. 
If you are having a hard time maintaining eye contact with the lens, you can ask your friend to sit a few feet directly behind the camera. This might help as you can simply go on talking as if you are telling a story or giving an explanation to your friend.
Sharpen your delivery skills through consistent practice
Like every other skill, being able to speak naturally when recording a YouTube video takes time. The best way to fast-track your comfort in front of the camera is to simply do it as many times and as often as possible. 
Don't aim for perfection. Your focus should be on making gradual improvements and the best way to achieve this is to make short 5-minute practice clips daily. For these clips, it really doesn't matter what type of content you will be recording – whether it is reading out an article, singing, or even imitating a personality, it doesn't really matter. Simply create them as often as you can and then save them.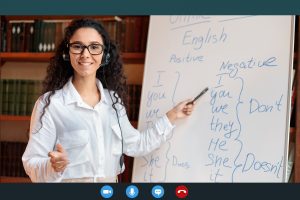 Thereafter, review them for mistakes, note any improvements that you think will improve your delivery, and then repeat the whole process. And if you don't trust your judgement, you can even have a friend watch them and give you an honest review of what needs to be improved.
With consistent practice, you will get better. The awkward poses will slowly fade away. Your ability to maintain lense contact will gradually improve. And you will be able to project more confidence as you get more comfortable being in front of the camera.
Talk to one person
Most people don't watch YouTube videos in a group, and so when you talk as if you are talking to your audience all at once, you will break the illusion of person-to-person communication that YouTube provides. 
Therefore, when coming up with your script, it is always advisable that you write it as if you are talking to one member in the audience. Doing so will increase the odds of creating stronger connections with your audience because it will seem more natural.
Bring your personality with you
It is easy for audiences to sniff out fake personas. This, in addition to the fact that maintaining a telecaster-like persona requires expending a lot of physical and emotional energy, makes it a good idea to stick to being your authentic self when making a presentation or telling a story on YouTube. There is also the fact that being authentic also makes it much easier to stand out on the platform.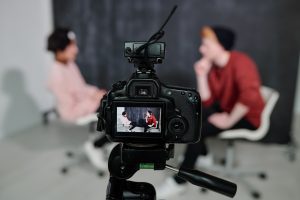 Furthermore, when you avoid putting on a persona, you become more relatable. It also makes you more confident in front of a camera as you won't have to second-guess yourself because what you are revealing to the audience is a part of you that you are familiar with. You will appear more confident when speaking from your heart, and this will make it easier for you to get your point across in a natural way.
However, when doing so, always keep in mind that some of your energy may not translate as efficiently on camera and this may cause you to come across as dull or bored. Therefore, speaking with a little more energy than usual may actually help improve your delivery, making you more engaging.
Put more effort in looking and feeling good
As a content creator, it is important to realize that your energy is contagious. If you are comfortable and feeling great about yourself, it will translate on video. However, if you are uncomfortable, forming a connection with your audience will be harder as your content will come across as dry, strained and unnatural.
Therefore, before going in front of the camera, wear comfortable and great-looking clothes. Doing so will boost your confidence on camera, and this will improve the odds of your delivery feeling more natural.
However, it is not all about looks. Taking a restful nap, drinking a cup of coffee or doing a few jumping jacks right before recording can also help to boost your energy and keep you alert. They can thus boost your delivery by reducing the amount of awkward pauses, loss-of-concentration moments and by generally making it come across as smoother and more natural.
Also, as far as looks go, don't forget to put on at least light makeup. This applies to both men and women, as failure to do so may make your look a little bit more blotchy and your skin may look unnatural. And since human beings are generally visual creatures, an unnatural on-camera appearance can effectively mess with the effectiveness of your delivery. Putting on light makeup will thus improve your odds of you seeming natural in front of a camera.
Use proper breathing techniques 
Part of being able to naturally talk to a camera entails learning how to be calm and relaxed when recording. Breathing techniques are incredibly effective at helping to calm your nerves, and as a result, learning them could really help to make your on-camera persona appear natural and confident.
The trick with breathing techniques is to avoid having to take fast and shallow breaths as these tend to make you seem nervous. As a result, taking deep and full breaths with your diaphragm is what works best.
It is also possible to avoid the trap of having to take shallow breaths by simply slowing down your delivery pace. Slowing down and making sure that you enunciate each and every word will be less of a strain on your system, and this will help to make you a little bit more comfortable.
Invest in decent lighting
Great lighting can do wonders when it comes to how you come across on camera. It will make it easier for your audience to see your micro-expressions. And since appearance is an important part of communication, the fact that the right lighting can also enhance your natural look, makes it an essential part of your effort towards being able to talk to a camera naturally.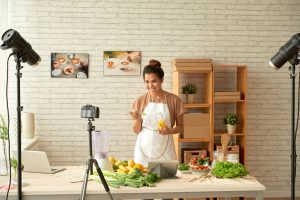 Therefore, it is always advisable that you invest in great soft boxes and ring lights. Going for options that have adjustable settings is advisable as they will allow you to modify their brightness and intensity settings. And depending on your environment, this feature can play a significant role in helping to make you more comfortable in front of the camera, something that will make it easier for you to talk more naturally as you won't be straining.
Sharpen your video-editing skills
Talking to a camera as if you are talking to a friend is not easy. This is is so especially in cases where you are using a script. And if you are just starting your YouTube journey, chances are that you will struggle getting everything right.
The good news is that you don't have to be perfect. This is so mainly because with the help of a YouTube editor, most of the mistakes you make when filming can be fixed in the editing room. 
Your voice can be enhanced, sped up or slowed down. Through editing, you can also correct the color grading in your video to make things look more natural. You can also cut out word mistakes, awkward pauses and unwanted background noises.
Through jump cuts, appropriate background music, sound effects, and other editing tricks, you can also modify the overall pace and feel of the video. All of these things can remove all the kinks and creases that distract from your delivery, and thus make you look more relaxed and natural. And while the process typically takes a lot of time and effort, the transformative effect of the editing room is hard to deny. 
If you don't know how to use video editing software, or if you don't have the skills to spice up your video, you needn't worry. You can easily opt to outsource your video editing needs to a reputable video editing agency. Doing so is one of the most effective ways of guaranteeing that you end up looking natural, confident, relaxed and engaging, on camera.